How it works
Unit capabilities
A WPPv2 system is a network of WPP Units connected together over Cat.5e or Cat.6 data cabling. Each unit provides the following connections:
4 x Wired 10/100mbps ethernet ports
1 x 12V supply for motion sensor/alarm device
1 x Digital Input for connecting to motion sensor/alarm device relay
2 x Pass-through copper pairs, typically used for connecting existing non-IP based telephone and paging equipment
802.11 b/g Wireless Access Point (can be disabled if not desired)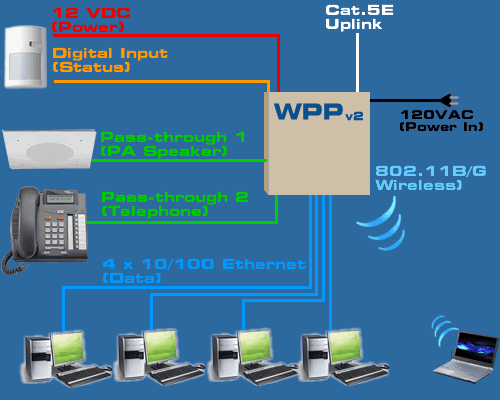 To facilitate reliability in a security alarm configuration each unit includes a backup battery capable of maintaining full operations for up to 3 hours.
The WPPv2 Network
Each unit is cabled back to a designated "Master" unit to form a star topology (the same way that individual computers in an ethernet network are wired back to a central closet or server).The "Master" takes the combined signals from each of the individual units and splits them out again into the appropriate service connections.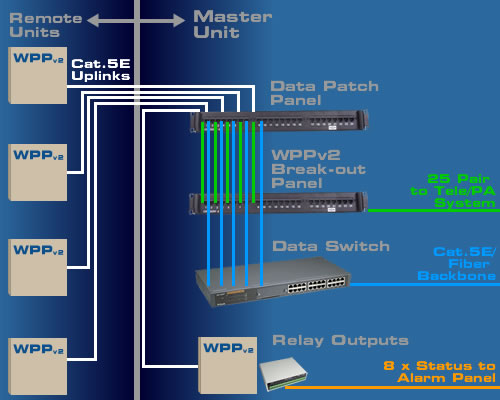 Any unit can be turned into a "Master" simply by adding a specialized "Master Package" to the existing installation. This Master package consists of the following equipment:
A WPPv2 8 channel relay board, used to convert the digital inputs from up to 8 units back into standard Dry contacts (for connection to alarm panel input zones, etc).
An optional WPPv2 break-out panel, available in either telephone/speaker, speaker/callswitch, or open-port configurations.
A 10/100mbps 24 port ethernet switch along with backup UPS to provide data connectivity between remote units and the Master. (Existing data connectivity equipment can be re-used if desired).
Once installed the system will provide end-to-end connectivity for a 100mbps data network, 1 dry contact per unit, and 2 dry pairs per unit. For more information about how these connections are typically utilized proceed to the Deployment Examples.